Your pilgrimage won't be complete without taking the short drive to Cotesworth, the home of James Zachariah George from 1861 until his death in 1897. There, you can purchase tickets for a tour of the home. George was a major figure in Mississippi government during Reconstruction and a United States senator from 1881 till 1897. It was at his three-legged desk–still at Cotesworth–that George, having taken a leave of absence from his Washington job, drafted a major portion of the 1890 Mississippi Constitution. A few yards away from the home is George's library, thought to be the only hexagonal structure still standing in Mississippi.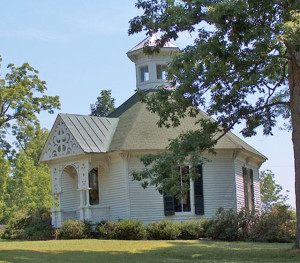 But Cotesworth is more than a destination for historians, architects, and people interested in old homes. Indeed, the stately Greek Revival mansion amid its pastoral setting has caught the eye of Hollywood. In the 2012 movie The Help, nominated for a Best Picture Academy Award, Cotesworth is the home of Celia Foote, played by Jessica Chastain (nominated for an Oscar for this performance), whose maid is Minnie, played by Octavia Spencer (winner of an Oscar for this performance). More recently, James Franco turned Cotesworth into the Compson home in his film adaptation of Faulkner's The Sound and the Fury.
Owned by George's great-granddaughter Katharine Williams until its purchase by the Cotesworth Culture and Heritage Center (CCHC), the Cotesworth house has recently undergone partial restoration and renovation, including the installation of central heating and cooling on the first floor, as well as an ADA-compliant restroom. Cotesworth is now available for weddings, parties, meetings, tours, and other events. Furthermore, plans are in place for a complete restoration and renovation of the house and library, including the addition of period-appropriate furnishings and accoutrements. The goal of the CCHC is to make the house, library, and grounds not only a site for special occasions, but also an interactive educational arena.
You will definitely be glad you took the time to visit Cotesworth. You may even decide to schedule an event there yourself, or you may want to donate to the CCHC. If so, call 662-237-9600 for all the information you need for planning your own Cotesworth experience.
Pilgrimage Tickets are $10 and will be available only at Cotesworth.
Written by Josephine Neill-Browning, Cotesworth Culture and Heritage Board